Photographer for a birthday Party!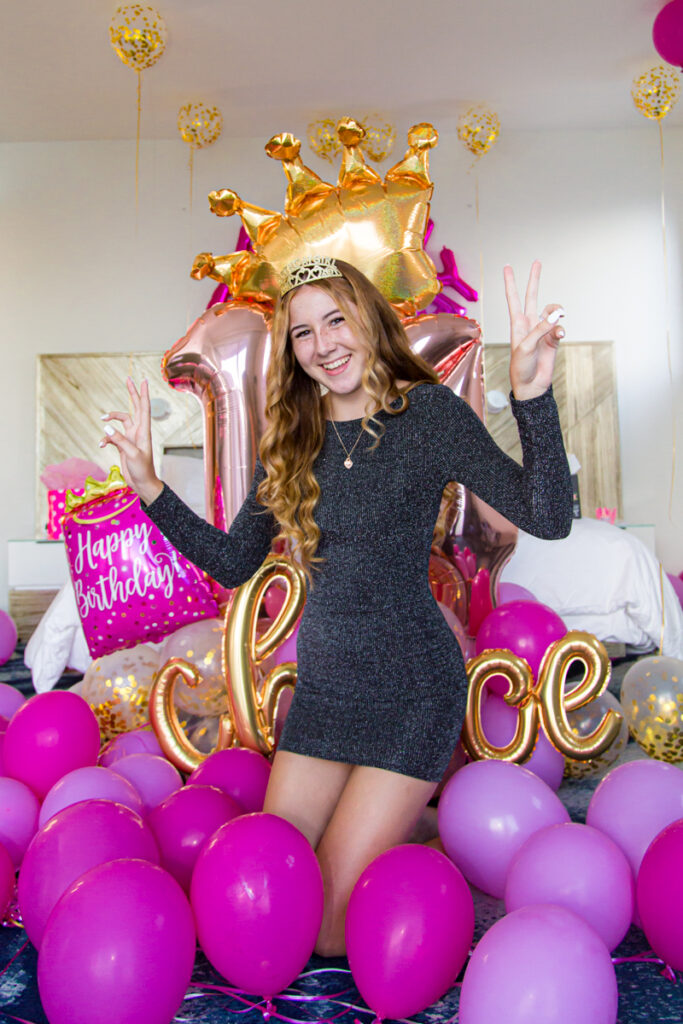 Chloe's B-day Photoshoot! ​ Sweet 14!
One of the perks to being an event photographer is getting to work as a photographer for birthday parties. And here is the story of one recent Birthday Photoshoot!
I know Chloe from before! A few months earlier, we worked on developing her Model Portfolio! And we waited for the moment she turns 14, so we can apply to model agencies! Well, on Labor day Weekend Chloe finally celebrated her 14th birthday! She had lots of balloons and a room at the W hotel in Fort Lauderdale! Not to mention the celebration dinner! Her mom, Marlene, called me a few days earlier. From her words, Chloe said a few times: "it would be nice to have a professional photographer for my birthday." wink wink. And luckily, I was available!
 She did not know I was coming. Her mom and friends made sure to keep it a secret! They had to lie about time for the dinner reservation, so her hair and makeup are done, and she is ready for her photoshoot! So when I came to her b-day suit at W, Marlene said, "Honey, here is someone who wants to see you." She was surprised and greeted me with a big smile! I was so happy to see this bright, beautiful, and young girl enjoying her special day, family, and close friends!
I want a Good Birthday Photographer, Please!
What is the primary job of a good photographer at a birthday party? To picture everyone's raw emotions and happiness! In my opinion, it has to look effortless and natural! And with a future model named Chloe, it was easy to achieve!
I had so much fun taking photos and being a part of this moment with them! They happen to be a very photogenic family, including Chloe's brother, who was a little shy, but jumped into the family photos without hesitation!
I hope you enjoyed my little story and now enjoy the photos! And if you are looking for a photographer for your birthday party, hit me up! With the COVID restrictions, I prefer to shoot within small gatherings of people. And I wear a mask at all times, for everyone's sake 🙂 
And here is a BTS (behind the scene) photos of me taking photos 🙂